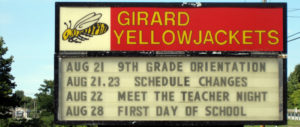 The first school in the township was located in what is now Girard Borough; it was established in 1809 with 16 year old John Swan as the teacher.  During the 1820's, there was a system of fifteen schools established throughout the township.
West Girard established a frame building located on North Creek Road in 1822; it was in use until 1954.
Girard Borough established a log building in 1827, located on what is now Myrtle Street. In 1850, Girard Academy, a private boarding school, was established and was located on East Main Street.  The property was transferred to the school board in 1872, and it became a school used by local students until Battles Memorial School was built in 1912.  It was used by the school district until it was sold in 1981.
Lake City (Miles Grove) established a frame building in 1884, and it was used for grades 1 through 12 for both borough and township students. In 1901, this building was replaced by a brick building that was in use until 1964. This structure was rebuilt and became the Lake City Borough Offices.
In 1925, the school districts of Girard and Lake City (North Girard) combined with Girard Township to create one school district. With the combining of the school districts into one, it was decided to build a new school to house grades 9 through 12 and keep the existing structures of Battles Memorial and North Girard to be used for grades 1 through 8.
Rice Avenue Union High School was established in 1926 and is presently being used as Rice Avenue Middle School. The most recent school in the district is Elk Valley Elementary, established in 1964. The Girard area had two private schools, one of which was St. John's Catholic School. This school was opened in 1945 and closed in 2005. The second is the Girard Alliance Christian Academy. This school opened in 1979 and closed May 27, 2011 due to low enrollment.
To learn more about the Girard School District, click here.
Save
Save